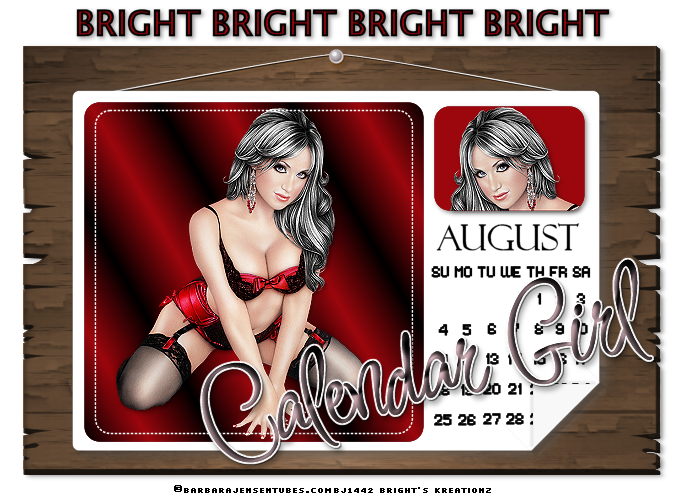 Tube of choice,i used Barbara Jensen.
You need a licence to use this art,you can purchase one
HERE
.
Calendar Template.
HERE
.Thanks for sharing.
Font of choice i used Lucida Sans Unicode.

Open template,delete info layer.
Highlight plum square.Select all float, Change colours to red and black.Make a gradient on the black.
Linear.Angle60.Repeats7.Fill square with your gradient.select none.
Resize tubex55.Paste as new layer,duplicate,add gussian blur on 5.
Change blend mode to soft light.Drop shaddoe original tube.2.2.40.7.
Highlight small plum rectangle.select all,float,fill with same red from your gradient.
Back to your tube,image mirror,paste as new layer.invert delete on your keyboard,drop shaddow.
Highlight wording shaine,select all float,new layer.Fill with black.delete original,select none.
Drop shaddow template.White rectangle plum Square and small plum rectangle.
Add url copyright and licence number.
Add name 4times along top of template,i used black and red,all caps.
Crop around template.
Delete white background.Save as PNG.
Hope you enjoyed doing my tut,thanks for trying it.