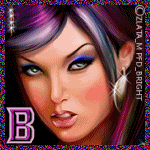 Tube of choice i used Zlata_M.
You need a licence to use this art, you can purchase one
HERE
.
Supplies.
Xenofex2 puzzle.
Banner...
Open my banner from supplies.
Highlight background, open close up tube of choice
paste as new layer place to left of banner drop shaddow.
Duplicate image mirror,select none change blend mode to luminance.
Drag 1st.tube to top.
Add url copyright and watermark.
Add name place center towards to of template.
Magic wand click in center of all letters on your name
add an inner bevel select none drop shaddow.
Edit copy merged paste as new image in animation shop.
Back to psp.
Highlight left tube layer effects xenofex2 puzzle.
Add puzzel as shown in my settings from supplies.
Remember to edit copy merged after each layer
and paste after current frame in animation shop.
Knockout 10 % pieces on layers 4 to 5.
30 pieces on layers 6 to 8.
50 pieces on layers 9 to 11.
All the pieces that are now left on your last layer.
Edit select all change properties speed to 40.
Highlight 1st frame change propertie speed to 120.
Highlight 2nd frame change propertie speed to 110.
view animation save as.
Banner...
Work as for your banner, resize tube to fit avatar.
Add 1st.letter of your name place top right of avatar.
Same puzzel method as you did for banner.
Don't forget to restore all pieces for your 2nd layer of puzzel.
Settings...
Knockout 10% pieces on layers 3 to 8.
20 pieces on layer 9 40 pieces on layer 10
then knockout all remaining pieces on your last layer.
Same animation properties speed as on your banner.
View animation save as.
Hope you enjoyed doing my tut, thanks for trying it.
Any problems doing this tut, please contact me.