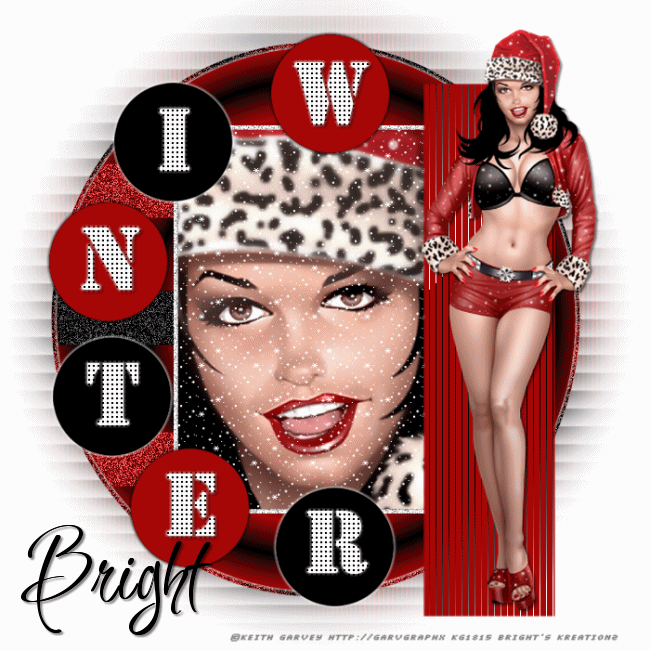 Tube of choice i used Keith Garvey.
You need a licence to use this art, you can purchase one
HERE
.
Biene template
HERE
. Thank you for sharing.
Montiblindsmask
HERE
. Thanks Monti.
Plugins.
dsb flux bright noise.
Eye candy gradient glow.
Tramages tow the line.
Font of choice i used Satisfaction.
Open template in psp delete credit layer.
My method for filling layers...
Highlight the layer your wanting to fill, select all float
new layer fill with either a gradient or colour of choice
delete original layer.
Big circle i filled with a gradient from a dark and light colour
from my tube then made a gradient on the dark colour sunburst repeats5.
Then added EC gradient glow in white.
Glitter circle i changed colour to black then add dsb noise on 100.
Merge all the winter letters visable change the colour to white
then add psp weave effect. drop shaddow.
Every other sm circle i changed the colour to red.
I added Gradient glow black on the red sm circles and white glow on black circles.
Highlight black rectangle select all float copy and paste
close up tube as new layer so just her face is showing invert delete
on keyboard select none name this layer close up.
White rectangle i add dsb noise 0n 100.
Rectangle right i changed the colour then added Tramages tow the line.
Copy and paste your full tube as new layer drop shaddow
use deformation tool exspand rectangle at bottom so tube fits.
Add url copyright and licence.
Add name place to bottom left of template drop shaddow.
Highlight close up tube select all float in animation shop
copy the 1st.frame in psp paste as new layer
invert delete on keyboard you may have to click on a portion of the snow
before deleting on keyboard. select none copy merged paste in animation shop as new image.
Copy frame2 in psp undo right back to your floating ants. now paste as new layer your snow frame2.
invert delete on keyboard select none copy merged paste in animation shop after current frame.
Repeat this untill you have pasted all 5 snow frames onto your tag.View animation,
Animation resize animation 650 pixels width Save as.
hope you enjoyed doing my tut, thanks for trying it.