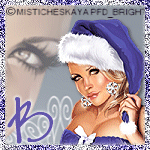 Tube of choice i used Misticheskaya.
You need a licence to use this art,you can purchase one
HERE
.
Supplies.
If these are yours.Please let me know so i can credit you.
Plugins.
dsb Fluz bright noise.
Eye Candy gradient glow.
Font of choice i used Jayne Print YOFF.
Banner...
File new 650x250 fill with white, Open tube od choice
If using same as me resize copy and paste the background
So such her face is showing on the left of template.
Resize main tube paste as new layer to right of template drop shaddow.
Open wordart paste as new layer to top between tubes.
Highlight background select all float modify contrast by5
invert new layer,fill with gradient i used purple and white made the
purple the gradient linear repeats6 select none
drag to top add noise set on 100 mix.then add eye candy gradient glow white.
Add url copyright and licence number.
Add name place to bottom right of template add EC gradient glow.
Highlight frame add noise on mix 80,copy merged
paste in animation shop as new animation,back to psp
undo noise,add noise mix on 90.Edit copy merged,paste in
animation shop after current frame.Repeat noise as above on mix 100.View animation.
Open sleigh, resize by 170 percentage of original
select all zoom in, animation replace colour place your pointer tool on the red
change colour to compliment your tube
repeat until all the red has new colour on it. but leave Santa as he his.
Change animation properies speed to 25.
Work as for your banner. throughout.
Add copyright and licence number, add 1st.letter of your name
to bottom left of template.
Hope you enjoyed doing my tut, thanks for trying it.