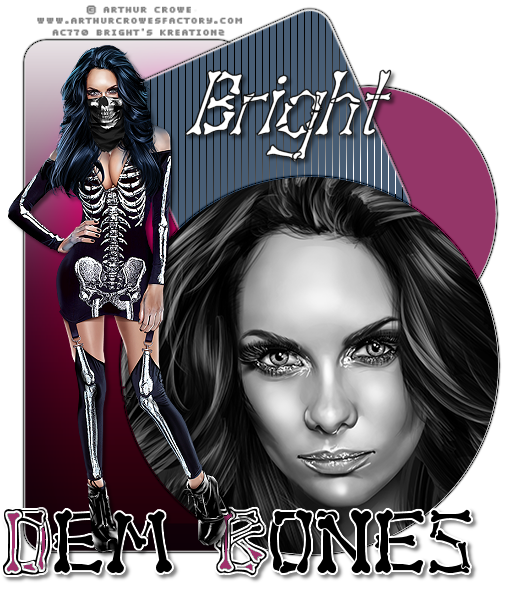 Tube of choice,i used Arthur Crowe.
You need a licence to use this art,you can purchase one
HERE
.
Template85.
HERE
.Thanks for sharing.
Plugins.
Tramages tow the line.
Eye Candy gradient glow.
Font of choice i used Bony Bones.
Drop shaddow throughout.3.3.50.5.
Open template,delete raster7.
Resize tube by55.Paste as new layer on top left of vector1.Sharpen,drop shaddow.
Highlight raster2.Select all float.Resize background from full tube by75.
Paste as new layer,invert delete on keyboard,select none,delete original layer.
Highlight raster3.select all,float,Copy and paste close up tube2.as a new layer
just the skeleton girls head.Invert delete on keyboard,
select none.Change blend mode to Luminance.
Highlight raster5.select all,float,new layer,fill with 485D74.select none,
delete original layer.Add Tramages tow the line default settings.
Highlight raster4.select all,float,new layer,fill with 943668.select none,delete original layer.
Highlight raster6.Magic wand click the white bones on the D and B.
Fill with 9F306B.Select none.Drop shaddow.
All template layers but not the center rectangle.
Add EC gradient glow,colour Black halo size3.
Center rectangle add EC gradient glow,thin white size3,then add
black halo as above.
Add url copyright and licence number.
Add name top right of template.drop shaddow.
Crop if needed.Delete background,save as PNG.
Hope you enjoyed doing my tut,thanks for trying it.