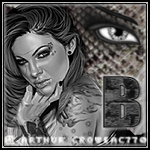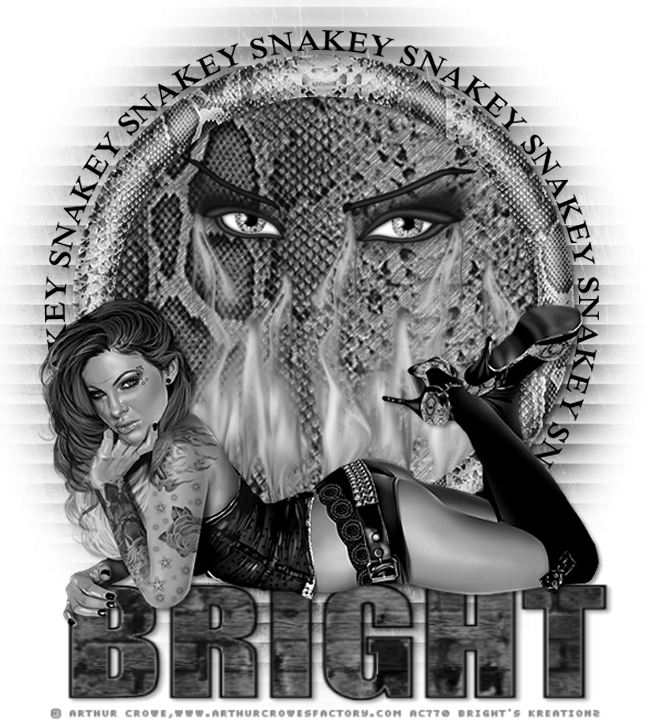 Tube of choice.I used SnakeEyes Tube and Kit from Arthur Crowe.
You need a licence to use this art,you can purchase one
HERE
.
Montiblindsmask.Thanks Monti for sharing.
HERE
.
Eye Candy gradient glow plugin.
Font of choice i used Impact,all caps.
Drop shaddow throughout.2.2.50.5.unless stated otherwise.
Tag...
File new 650x650,fill with white.New layer fill with paper8.
Mask new from image,select and apply mask,merge mask visable.
Copy and paste snake skin frame on top center of mask,
magic wand,click in center of frame,paste paper15 as new layer,
invert,hit delete.Drag below frame.
paste flames as new layer,hit delete.Select none.
Resize eyes by60.Paste as new layer on top center of frame.
Drop shaddow frame,eyes and flames.
Copy and paste my wordart as new layer outside of frame.
Resize tube by85,paste as new layer on top bottom of frame,drop shaddow.Gray scale tube.
Add name all caps,size72,you may have to play with it as names differ in size.
Use Black for the foreground and background nil.
With magic wand,click inside all letters,resize paper5 by45,
move over marching ants,invert,hit delete.Drop shaddow blank text layer.
Move name under tube layer,see mine for details.
Add url,copyright and licence number.Delete white background.Save as PNG.
Banner...
file 560x250.Fill with white.
Paste paper8.as new layer.Paste flames as new layer to bottom of template.
Paste tube as new layer,place bottom center of template,drop shaddow.
Resize eyes paste as new layer,place top right of tube,drop shaddow.
New layer on top of all layers,fill with black,select all,
modify contrast by2,hit delete,select none.add EC gradient glow,colour black halo
change colour to white set on3.
Add url copyright and licence number.
Copy your name from your tag,paste as new layer onto your banner.
Resize and rotate to left 90% place down left side of banner.
Delete white background,save as PNG.
Aviator...
File new 150x150,fill with white.
Copy each layer from banner to aviator,resize layer as you go.
Place tube to left,and eye top right.1st.letter of name bottom right.
Work same frame as on banner.
add copyright and licence number.Save as PNG.
Hope you enjoyed doing my tut,thanks for trying it.