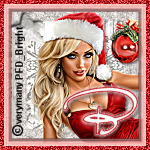 Tube of choice,i used Verymany.
You need a licence to use this art,you can purchase one
HERE
.
FTU White Christmas kit.Thanks for sharing.
HERE
.
Joy to the world wordart.
HERE
.
Plugins.
Eye Candy gradient glow.
dsb Flux Bright noise.
Font of choice i used
Satisfaction
Banner...
File new 650b250.Fill with white.
Open frame4.resize by45.image rotate 90degrees right.Paste as new layer
Crop around inner frame border.
use deformation tool to make it fit around template.
Magic wand click in side frame,modify expand by5,
Resize paper12 by45.paste as new layer,to left side of template.
invert hit delete,duplicate image mirror,merge these two layers visable.Drag below frame.
Sharpen unsharpen.Apply EC gradient glow thin white.
New layer on top of all layers,Fill with light colour from your tube,
select all modify contrast by7.add dsb flux mix on 50.select none
New layer fill with darker colour from tube,select all,modify
contrast by4,add EC gradient glow,appl gradient glow,colour black halo
change colour to darker colour on your first frame.select none.
Resize tube by35.Paste as new layer lefr of template,sharpen unsharpen.Drop shaddow 2.2.50.5.
Add wordart circles as new layer right of template.
Resize element60 by10,top right of template,Sharpen insharpen.
Rotate slightly right.Erase twig end.
Resize element54 by5.Paste as new layer,bottom right corner of template.
sharpen unsharpen,drop shaddow 2.2.50.5.Duplicate image mirror,image flip.
duplicate these two layers again.
Resize element76 by5.then again by85.Paste as new layer to right corner of template.
Sharpen unsharpen,Duplicate image mirror image flip.
Apply VM Natural sparkle default setting change max size to13.
Add url copyright and licence number.
Add name top left slightly off center.Apply EC then drop shaddow.2.2.50.5.
Save as PNG.
Aviator...
File new 150x150.
Copy and paste background,Inner frame,tube and star from banner to aviator.
Resize layers as you go to fit.
I copied my inner frame to top of aviator,cut to fit,duplicated it.Image flip.
Duplicated image rotate 90 degrees right,place to the left,duplicate image mirror.
Apply same outer borders as on banner.
Add 1st letter of name to bottom right corner,save as PNG.
Hope you enjoyed doing my tut,thanks for trying it.