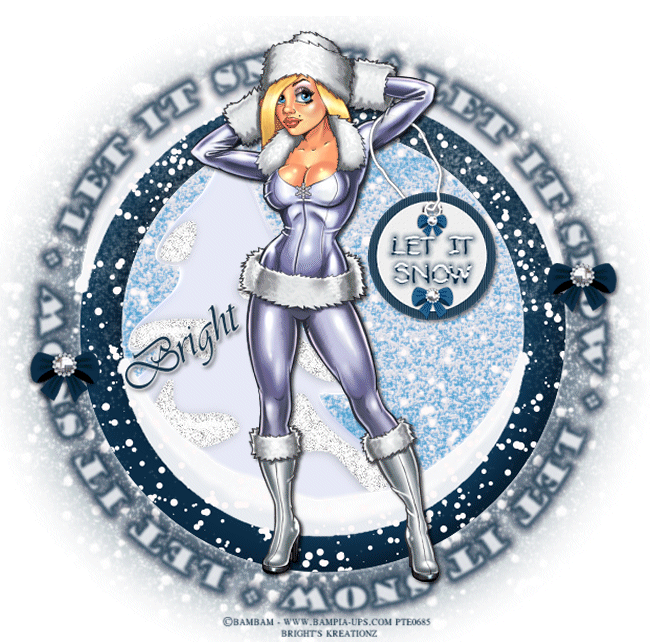 Tube of choice i used BamBam.
You need a licence to use this art, you can purchase one
HERE
.
FTU Snow Drift scrap kit
HERE
.
#2Stary night mask
HERE
.Thanks Vaybs for both your kit and mask.
Font of choice i used Vivaldi.
File new 650 x650 fill with white new layer
fill with paper of chopice mask new from image
select and apply mask merge mask layer visable.
Resize frame2 pasye as new layer on top of mask magic wand
click in center of frame selections modify exspand by5
paste paper of choice selections invert delete on keyboard drag below frame.
Resize tree1 paste as new layer place to left of frame
add white drop shaddow delete on keyboard select none drop shaddow frame,
Paste tube of choice place center of frame drop shaddow.
Resize tag5 paste as new layer place on top of arm of tube
erase part to make it look like its hanging on her arm drop shaddow.
Resize wordart to fit just on the edge of mask drag to top of mask layer.
Resize bow3 paste as new layer place on top of wordart
left and right drop shaddow see mine for details.
Add url copyright and watermark.
Add name add Eyecandy graidien glow then drop shaddow.
Highlight wordart layer image rotate 25 right edit copy merged
paste in animation shop after current frame.
Repeat this till you have 7frames in animation shop
be sure to hit your last frame before pasting after it.
Change animation speed to 20.
View animation save as.
Hope you enjoyed doing my tut, thanks for trying it.
************