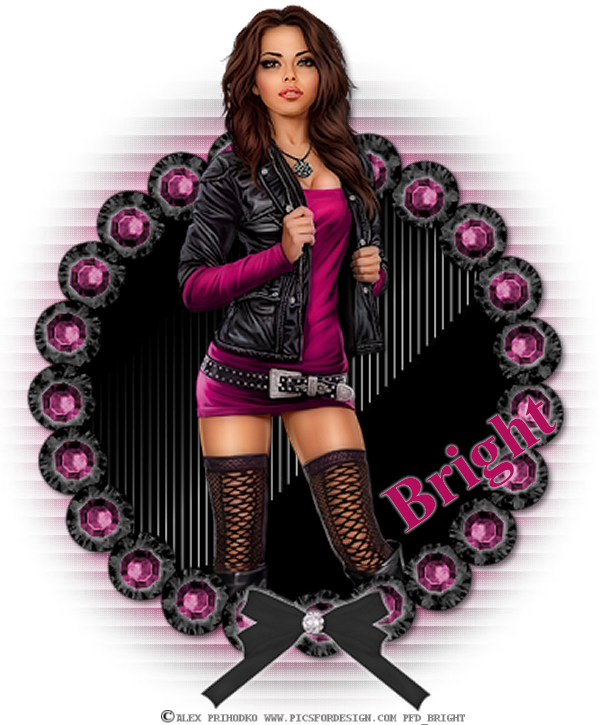 Tube of choice i used Alex Prihodko.
You need a licence to use this art, you can purchase one
HERE
.
FTU BWR bling challenge by Sandra.
Sorry i could not find the kit so have included
it in my supplies, thanks Sandra for sharing.
Montiblindsmask
HERE
. Thank you Monti.
Supplies.
File new 650x650 fill with white, new layer
fill with colour of choice i used purple and black
made the black a gradient.
Mask new from image select and apply mask merge
mask visable, i added pentadotcom effect.
Resize frame1 paste as new layer on top center of mask.
Magic wand click in center selections modify exspand by5
Fill with paper5 selections invert delete on keyboard.
Drag below frame.
Resize tube of choice paste as new layer place to bottom
center of frame delete on keyboard.Select none.
paste tube again on top of 1st tube drop shaddow
erase overlapping of tube at bottom of frame
drop shaddow frame.
Rersize bead7 colourize with colour from your tube
paste as new layer place one at a time in center of frame
flowers add EC gradient glow.
Resize ribbon2 paste as new layer place bottom center
of frame drop shaddow.
Add url copyright and watermark.
Add name place to bottom right of frame rotate
Add EC gradient glow.
Delete white background save as PNG.
Hope you enjoyed doing my tut, thanks for trying it.