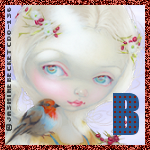 Tube of choice i used Jasmine Becket-Griffin.
You need a licence to use this art, you can purchase one
HERE
.
Supplies.
Banner...
Open my template in animation shop.
Highlight 1st.frame edit copy paste in psp as new image.
Resize tube of choice paste as new layer center
of template duplicate on original tube effects gussian blur on 5
on copy of tube give it a light drop shaddow.
Back to your tube resize image mirror paste as new layer
to bottom left of template drop shaddow change blend mode to multiply.
Drag your center tube to top.
Use selection tool to cut off overlapping of left tube.
Add url copyright and water.
Add name place to top left of template add psp weave effect.
Close background you fetch over from animation.
edit copy paste in animation shop as new image duplicate
9times edit select all edit copy highlight 1st frame of your tag
edit select all edit paste in selected frame.
View animation save as.
Avatar...
Open my template from supplies.
Highlight background select all resize tube
paste as new layer place center of template drop shaddow.
Add ©and artist name and your licence number place
to left of template.
Add 1st. letter of your name place to bottom right
of template add psp weave effect in colour of choice.
Save as PNG.
Hope you enjoyed doing my tut, thanks for trying it.