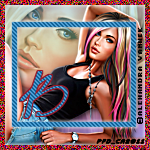 Tube of choice i used Alehandra_Vanhek.
You need a licence to use this art, you can purchase one
HERE
.
Font of choice i used Jayne Print Yoff.
Suplies.
Plugins.
Pentadotcom Jeans.
EC gradient glow.
Banner...
Open my banners in psp.
Highlight frame layer resize background from tube.
place face to left of template you may have to use deformation tool
to stretch your background to fit select none drag to bottom.
Highlight blue rectangle magic wand click in center
resize main tube paste as new layer drag so it is not showing on your
side rectangle select none duplicate on bottom tube
add gussian blur on 5 on top tube add drop shaddow select none.
Highlight side rectangle add name as follows...
Type name rotate to the left 90% use light colour from your tube
place center down rectangle add penta.com jeans duplicate
select all float modify exspand by1 fill with dark colour from tube
drag below 1st.name select none.
Add url copyright and licence.
Crop apque save as PNG.
Avatar...
work the same as you did for your banner, resizing layers as you go.
For name only your 1st letter of your name place bottom left of template.
Add copyright and your licence.
crop apaue save as png.
Hope you enjoyed doing my tut, thanks for trying it.