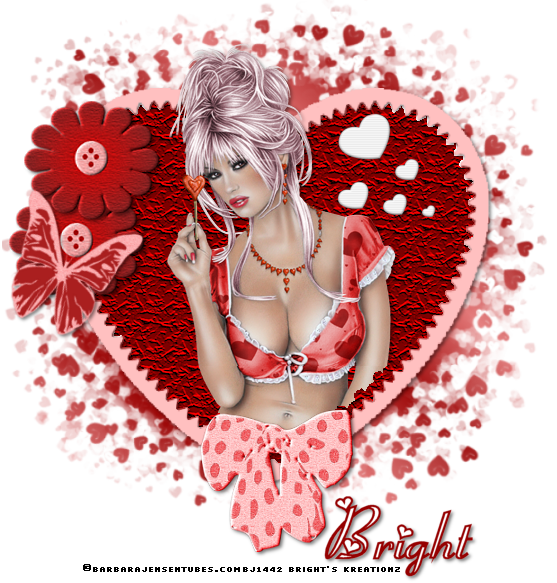 Tube of choice,i used Barbara Jensen.
Retired Bonus tube Special.
You need a licence to use this art, you can purchase one
HERE
.
FTU SD Valentine's scrap kit.
HERE
.Thanks for sahring.
Font of choice,i used Fiolex Girls
File new 650x650 fill with white,new layer fill with red and pink
gradiend linear 45 angle repeats7.
Mask new from image,select and apply mask merge mask visable.
Resize frame1 paste as new layer on top center of mask.
Magic wand click in center,selections modify exspand by5.
Fill with paper2 invert delete on keyboard drag below frame.
Copy and paste tube delete on keyboard select none.
Paste tube again on top of original tube drop shaddow.
Erase overlapping of tube at the bottom, drop shaddow frame.
Resize element6 paste as new layer place showing a small
amount of hearts on top right of paper fill drop shaddow.
Resize element19 paste as new layer on top left of frame
drop shaddow,duplicate place beneath original flower.
Resize element 35 colourize to compliment your tube, magic wand
click inside all the blanks,modify expand by1 new layer fill with
another colour on your tube,drag below original layer drop shaddow
select none.copy and paste on top bobbotm of botton flower
rotate slightly to the right.
Resize element32 paste as new layer on top bottom center of frame,
colourize drop shaddow.
Add url copyright and licence number.
Add name place to bottom right og bow,drop shaddow.
delete white background save as PNG.
Hope you enjoyed doing my tut, thanks for trying it.