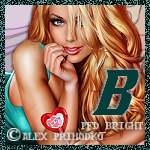 Tube of choice,i used Alex_Prihodko.
You need a licence to use this art, you can purchase one
HERE
.
Plugins.
dsb Flux Bright noise.
Eye Candy Gradient Glow.
Font of choice, i used Kirsty.
Banner...
File new 650x250, fill with white.
Delete text on this tube, merge all layers visable.
Paste as new layer on top center of template
move towards bottom slightly.
Gussian blur10 effects, Artistic effects, Contours.default settings
colour black.
Copy and paste tube, right of template,drop shaddow -2.-2.50.5.
Highlight background, select all,modify contrast by5.
invert new layer fill with 063C39.Drag to top.add dsb Bright noise mix 100.
Duplicate resize by90,deformation tool drag both sides towards the center.
Add url copyright and licence number.
Add name rotate down left of template EC Gradient glow.drop shaddow.
Edit copy merged, paste in animation shop as new animation.
Duplicate 7 times.Open heart animation, edit select all
edit copy, highlight 1st.frame of banner,edit select all
edit paste in selected frame.place,center left of tube.
View animation save as.
Aviator...
File new 150x150 fill with white.
Work as you did for your banner,resize layers as you go.
Only the frame for your aviator.
Add copyright and licence number.
Add 1st. letter of name to bottom right of template.
Save as PNG.
Hope you enjoyed doing my tut, thanks for trying it.