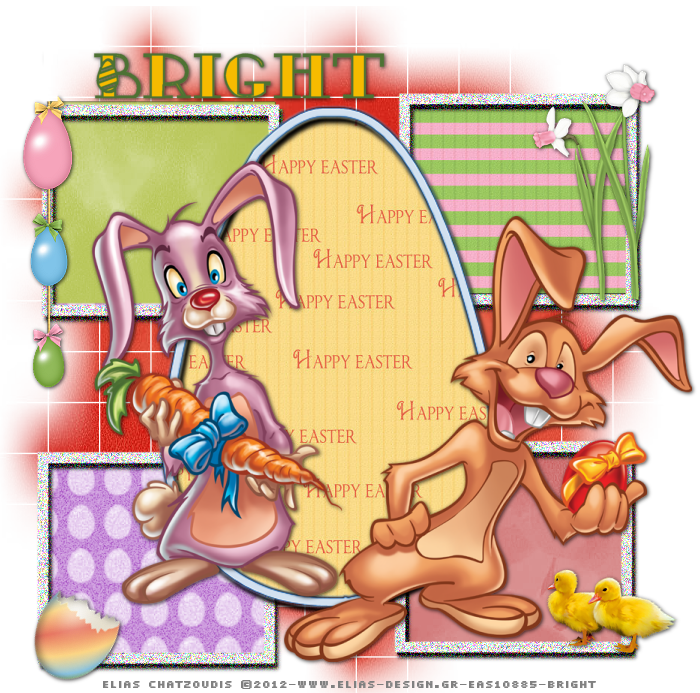 Tube of choice i used Elias chatzoudiz.
You need a licence to use this art,you can purchase one
HERE
.
Be My Bunny template.
HERE
.Thanks for sharing
FTU Easter Babe kit
HERE
.Thanks for sharing.
WSL_Mask84.
HERE
. Thank you for sharing.
Font of choice i used Easter Egg.
Open template,canvas size 700x700,crop later.
Image resize 110 all lyers selected.
Highlight large center egg,select all,float
Resize paper8 by 75,paste as new layer drag to cover egg,
Invert delete on keyboard,
Select none.delete original layer.
Highlight template again,resize paper12,paste as new layer
invert delete on keyboard,select none,colourize to compliment your tube.
use selection tool cut off overlapping paper.
Repeat on the other 3 frames.i used papers.18.2.colourized.
and paper17 colourized.
Raste colourize of your own choice.
Raster7 add psp noise,random 100.
Resize both rabbits by 75.Paste facing each other
center of template.Carrot rabit to the left.
Egg rabbit to the right.Drop shaddow both rabbits.
Resize duckypair by 45 twice then 75,paste as new layer
on top bottom right of template, sharpen then drop shaddow.
Resize hanging eggs1,by45,paste as new layer,top left
of template,sharpen,drop shaddow.Erase from bow to top.
Resize daffodil1 by 45 then 75,image mirror,paste as new layer
Sharpen,place to right corner of template.Drop shaddow.
Resize broken egg1 by 45 twice then 75,paste as new layer
bottom left of template,sharpen,drop shaddow,rotate slightly to right.
Add url copyright and licence number.
Add name Foreground 4d7234. Background f6bb00.Font Easter Egg,text size36.
Place top left of template..
Highlight raster1 Fill paper15,mask new from image,select and apply mask,merge mask visable.
Crop around the mask,Save as PNG.
Hope you enjoyed doing my tut, thanks for trying it.