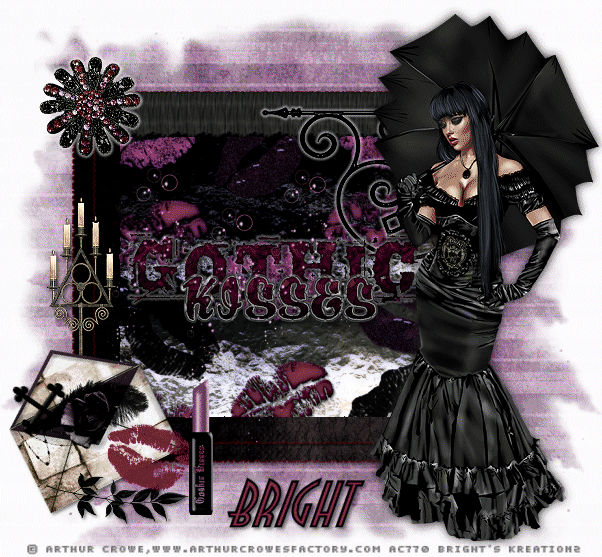 Tube of choice,i used Arthur Crowe.
You need a licence to used this art,you can purchase one
HERE
.
FTU Gothic Kisses kit.
HERE
.Thanks for sharing.
Mask59.
HERE
.Thank you for sharing.
Animation
HERE
,thanks for sharing.
Eye Candy gradient glow plugin.
Font of choice i used AnneBoleynSH.
Drop shaddow throughout 2.2.50.5.
EC gradient i used thin white set on1.
File 650x650,fill with white.New layer fill with paper4 resize by45.
Mask new from image,select and apply mask,merge mask layer visable.
Resize frame4 by 55.paste as new layer on top center of mask.
Click inside frame,modify exspand by5,fill with bonuspaper,resize by45.
Invert,delete n keyboard,drag below frame.select none.
Resize Wordart2 by45.paste as new layer inside frame.
Resize Brouchby25 Paste as new layer.add EC as stated above.Place top left corner of frame.
Resize Candlesby45.Paste as new layer left center side of frame.
Resize envelope by45.Paste as new layer rotate to left slightly.
place to bottom left corner of frame.
Resize kiss by20.Paste as new layer,on top bottom right corner of envelope.
Resize lipstick by25 paste as new layer on top right of lips.
Resize fringe by45,deformation to stretch to fit across.drag to and on top of frame.
Resize ironwork by45 paste as new layer,add EC as above,place on top right corner of frame.
Resize leaves by25.Paste as new layerPlace on top bottom of envelope,image mirror.
Resize tube by65 image mirror,duplicate,add gussian blur on5 to bottom tube.
Sharpen all layers.then drop shaddow as stated above.
Add url copyright and licence number.
Add name,i used text size48.
Crop around tag if needed.
Edit copy merged paste in animation shop as new animation,duplicate 21 times.
Open animation.Resize bling by45.Edit select all edit copy,
highlight 1st frame of tag,edit select all edit paste in selected frame.
place center of tag,repeat till you have pasted another two,one either side of center one.
View animation,save as.
Hope you enjoyed doing my tut,thanks for trying it.