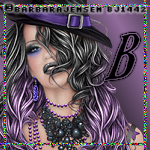 Tube of choice,i used barbara Jensen.
You need a licence to use this art,you can purchase one
HERE
.layered pack 46.1.
My wordart.
HERE
.
Plugins.
AAA frames. Foto Frames.
Eye candy Gradient Glow.
Exenofex.Constalation.
Font of choice,i used Witches Magic.

Banner...
File new 650x250.Fill with white.
Change colours to Lilac and black,make Linear gradient from the black.
Invert gradient ticked.Angle.60.7.Repeats.fill template with this gradient.
Copy tube of choice,paste head and shoulders to far left of template,
duplicate image mirror.Change duplicate tube to Screen,merge layers visable.
Effects AAA Frames,FOTO FRAME.Change Width to 10.Change Opacity to 49.
Magic wand click on line around template,add psp noise,Random 100.3 times.
Use Precepts tool,width3.Antialias and create as vector.Custom.
Draw a triangle inside template,light colour from your tube.see mine for details.
Add EC.Gradient glow.Black Halo set on3.Effects 3d.effects inner bevel.
Bevel2.Width10.S.25.D.7.A.-20.S.35.Angle.135.I.35.E.60.Colour White.
Erase bevel showing on top of left tube.
Add my wordart,to top between the tubes.Add EC as above.
Add url copyright and licence number.
Add name to bottom between tubes,Add EC as above but in a lighter colour.
Highlight your merged layer,magic wand,click on the dark and light lines on template.
Effects plugins.Exenofex.Constalation.Setting as followes.
From top to bottom.2.00.19.20.0.100.15.Twinkle rotation.45.keep original image.random seed.4507.
Edit copy merged,paste in animation shop as new animation.
Back to psp,undo to select none,undo constalation.
Add constalation hit random seed once.copy and paste as above in animation shop after current frame.
Repeat as above one more time.
View animation,save as.
Aviator...
File new 150x150.fill with white.
Copy and paste background from banner,resize by75.
Paste tube resize by75.place to bottom left of tempalte.
make a rectangle just inside frame.Add noise as on your banner.
Add copyright and licence number.
Add 1st.letter of your name,add EC as on your banner.Save as PNG.
Hope you enjoyed doing my tut,thanks for trying it.