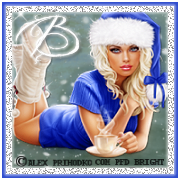 Tube of choice i used Alex_Prihodko.
You need a licence to use this art,you can purchase one
HERE
.
My supplies.
HERE
.
Plugins.
dsbFlux Bright noise.
Eye Candy Gradient Glow.
Font of choice i used White Christmas.
Drop shaddow throughout 2.2.50.5.Unless otherwise stated.
Cover...
Open my cover template.Resize back that comes with the tube by 85 twice.Sharpen.
Resize tube by40.Paste as new layer to left of template sharpen.
Duplicate,add gussian blur set on5.change blend mode to soft light,
drop shaddow original layer.
Copy and paste my wordart right center of template.
New layer on top of all layers.Fill with white,select all,modify contrast by2.
Hit delete,keep selected,fill with #304ECE.Modify contrast by4.hit delete.
Keep selected.Fill with white,modify contrast6.hit dlete.select none.
Magic wand click on the last white frame,add dsb Flux bright noise set on 100.select none.
Add EC gradient glow thin white set on3.
Add artist copyright name and your licence number.
Save as PNG.
Profile...
Open my profile template.copy and paste background from your cover,Resize by75 3 times.
Copy and paste both tubes from cover,resize 75 twice then 90.twice.
Work frame borders same as on your cover.
Add artist copyright and licence number.
Save as PNG.
Hope you enjoyed doing my tut,thanks for trying it.