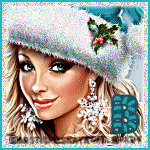 Tube of choice i used Misticheskaya.
You need a licence to use this art,you can purchase one
HERE
.
Font of choise i used CandyTime.

Banner...
File new 650x250,Change colours to Forground white.Background #94B0C7.
Make background Linear gradient.no angle.no repeats.Invert gradient not ticked.
Fill your yemplate with this gradient.
Copy and paste tube having just face and neck showing,
Place top right of template.Change blend mode to soft light.
Paste tube again to bottom left of template,resize so you only see
from chin to brim of hat,drop shaddow,2.2.50.5.
New layer on top of all layers,fill with #22B5BA select all float
modify contrast by2,hit delete.keep selected,fill with white.
modify contrast by 4.hit delete.Select none.
magic wand,click on white border frame,add psp noise uniform set on 100.
Add url copyright and licence number.
Add name to bottom right of template.
Highlight left tube,use freehand tool set on point to point.
Draw around the fur and bobble on the hat.
Add psp noise set on30.Select none,edit copy merged,paste in animation shop
as new animation.Back to psp,undo select none undo noise,
add noise set on 40.Select none,edit copy merged,paste in animation shop
after current frame.Repeat undoing and adding noise one more time set on50.
View animation,save as.

Aviator...
File new 150x150.fill with background from banner,resize by75.
Copy tube from banner resize50.sharpen unsharp mask.
Add same border frames as on banner.
Add copyright and licence number.Add 1st.letter of name bottom right of template.
Do same animation as on banner,View animation,save as.
Hope you enjoyed doing my tut,thanks for trying it.