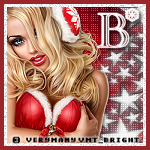 Tube of choice i used Verymany.
You need a licence to use this art,you can purchase one
HERE
.
FTU Christmas Time kit,Thanks for sharing,
HERE
.
New Years Fireworks.Thanks Simone for sharing.
HERE
.
Font of choice i used Christmas.
Plugins.
dsb flux bright noise.
Penta.com dot and cross.
Drop shaddow throughout.2.2.50.5.
Banner...
File 650x250.fill with white.Paste paper3 as new layer.Image mirror.
Resize by75.Use deformation tool,stretch to fit.Sharpen.Add penta.com dot and cross.
Copy paste full tube by60.left of template,sharpen drop shaddow.
Resizem13 by30.Paste as new layer between tube and tree,
Apply Ec greadient glow,thin white set on1.
New layer on top of all layers.Fill with white,select all modify
contrast by7,hit delete,select none,add bright noise set on 50,
New layer fill with #98262B.select all modify contrast by4,hit delete,select none.
Add name to bottom of template,drop shaddow.
Edit copy merged,paste in animation as new animation,duplicate by14 times.
Open firework,Resize by75,edit select all,edit copy,
Highlight 1st.frame of banner,edit select all,edit paste in selected frame.
Place just right of the doves wing.View animation,save as.
Aviator...
File 150x150,copy paste background from banner,move to the left so the tree is showing.
Copy tube from banner paste as new layer,resize by60,move to left of template.Sharpen.
Apply the same frames as on your banner.
Add 1st.Letter of name to top right of template,drop shaddow,duplicate.
Save as PNG.
Hope you enjoyed doing my tut,thanks for trying it.