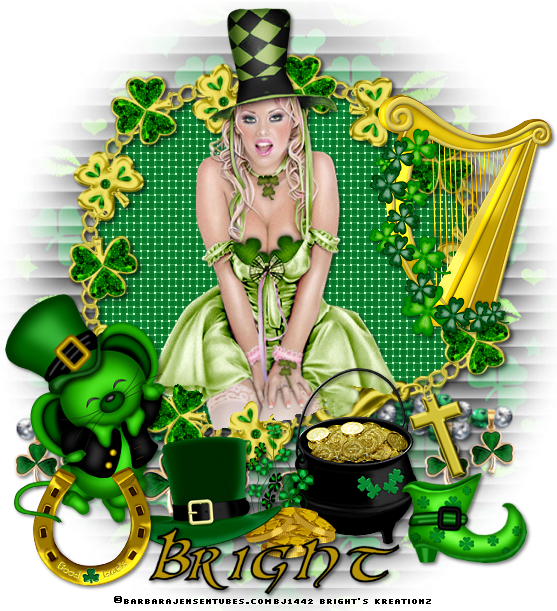 Tube of choice i used Barbara Jensen.
You need a licence to use this art, you can purchase one
HERE
.
PTU.St.Paddy's Day kit.
HERE
.Thanks.
Montiblindsmask.
HERE
.Thanks Monti.
Font of choice i used UnZialish.
File new 650x650 fill with white.New layer resize and fill with paper8.
Mask new from image,select and apply mask,merge mask visable.
Resize 76,paste on top towards bottom of mask. Drop shaddow.
Duplicate image mirror.
Resize 63.paste on top center of mask,magic wand click in center.
Resize and paste paper1 invert delete on keyboard
drag below frame, add Psp weave effect in white,
Resize tube paste on top bottom of frame,delete on keyboard.Select none.
Paste tube again on top of original,Aligning it up,drop shaddow.
Use selection tool cut bottom of tube off.
Resize35 paste on top right of frame drop shaddow.
Resize 39.paste on top bottom left corner of frame,drop shaddow.
Resize 56 paste to right of 39,drop shaddow.
Resize 33.Paste to right of 56.Drop shaddow,drag below 56.
Resize 59.paste on top bottom right of33.Drop shaddow.
Resize 74.paste on top bottom of 39,Drop shaddow.
Use freehand tool,draw around the end of the tail copy psate on top of horseshoe.
Add url copyright and licence number.
Add name bottom center of tag.Drop shaddow.
Delete white background,Save as PNG.
Hope you enjoyed doing my tut, thanks for trying it.