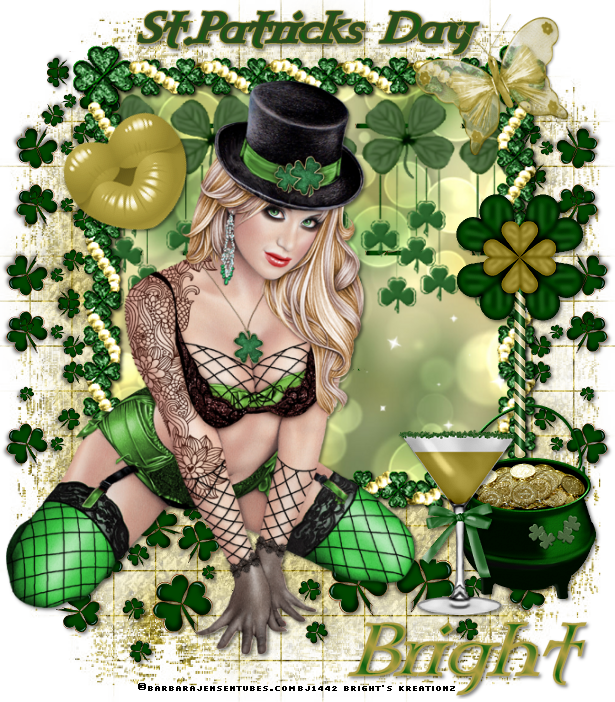 Tube of choice i used Barbara Jensen.
You need a licence to use this art, you can purchase one
HERE
.
PTU Irish Lass kit.
HERE
.Thanks.
Mask167
HERE
.Thanks for sharing.
Font of choice iused Celtic Garamond the 2nd.
File new 700x800 crop and resize later.Fill with white.
New layer fill paper1,mask new from image,select
and apply mask,merge mask visable.
Resize Scatter, paste on top left corner of mask,drop shaddow
duplicate mirror image duplicate flip keep duplicating as above
untill you have shamrock all around bottom and sides of mask.
Erase any you do not want showing when all elements are on.
Resize Frame 2 Paste on top center of frame,Click in center,modify
exspand by5,Resize and fill with paper9 invert delete on keyboard.drag below frame.
Resize curtain,paste as new layer,drop shaddow,delete on keyboard,
Resize sparkles,paste bottom right of frame.delete on keyboard.
select none,drop shaddow frame.
Resize tube,paste as new layer,bottom left corner of frame,drop shaddow.
Resize Pot of gold,paste on top bottom right corner of frame,drop shaddow.
Resize Drink,paste on top bottom left of drink,drop shaddow.
Resize kissme paste on top left of frame drop shaddow.
Resize butterfly1 paste on top right corner of frame,light drop shaddow.
Open my wordart,copy,paste to top center of frame.
Resize double lolly,paste on top down right of frame,drop shaddow.
Add url copyright and licence number.
Add name to bottom right of tag,drop shaddow.
Crop and resize if needed.
delete white background,save as PNG.
Hope you enjoyed doing my tut, thanks for trying it.