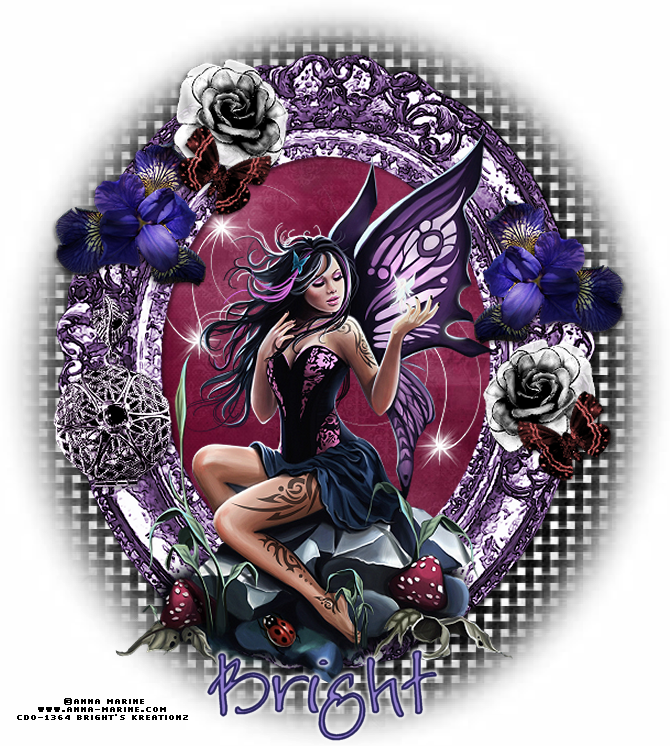 Tube of choice,i used AnnaMarine.
You need a licence to use this art,you can purchase one at CDO.
PTU ScrapFoxy_AnnaMarine-Package-43
HERE
.
Winni mask5.
HERE
.
Eye Candy Gradient Glow plugin.
Font of choice,i used Jayne Print YOFF.
File new 650x720,fill with white.
Paste paper12.as new layer.Mask new from image,select and apply mask,merge mask visable.
Resize frame1 x70.Paste as new layer.
Magic wand,click inside frame,selections,modify exspand by5.
Resize paper13 x 50,paste as new layer,delete on keyboard,drag below frame.
Select none,drop shaddow frame.2.2.50.5.
Use deformation tool adjust mask to fit evenly around frame.
Open merged layer on tube pack.Paste as new layeron top bottom of frame.
Highlight frame paper,resize element13 x25.image mirror,paste as new layer to
top left of frame,sharpen,duplicate,image mirror,move to bottom right of frame.
Resize element18 x25,sharpen,paste as new layer to right of tubes wings.drop shaddow.
Duplicate image mirror,move up,see mine for details.
Resize element31 x20.sharpen,paste as new layer just beneath element18,drop shaddow.
Image mirror,move to bottom right of element31.
Image mirror,move just above element18.
Resize element15 x20.sharpen,paste as new layer on top bottom of element31
drop shaddow,rotate slightly to the left.Colourize.Hue.255.Saturation.104.
Resize element43 x30.paste as new layer to bottom left of frame,sharpen,drop shaddow.
Resize all layers x110,all layers ticked.
Add url copyright and licence number.
Add name to bottom center of frame,add EC gradient glow.Crop if needed.
Delete white background,Save as PNG.
Hope you enjoyed doing my tut,thanks for trying it.