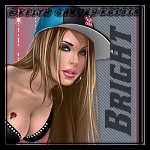 Tube of choice,i used Keith Garvey.
You need a licence to use this art,you can purchase one
HERE
.
Plugins.
Eye candy gradient glow.
Exenofex2 plugin.constelation.
Font of choice i used Kirsty.
Banner...
File new 650x250,fill with white.
new layer fill with colour BB6674.Add psp blinds settings...
Width27.Opacity100.Colour.878E9E.Light from left/
Resize full tube by 60 percentage of original.
place center of template,drop shaddow.1.1.30.4.
Open my wordart,paste as new layer center left of template.
Preset shape rectangle.Antialias and create as vector.Line width4.Solid.
Stroke colour 050303.Draw a rectangle down right of template,see mine for details.
Magic wand click in center of rectangle,fill with colour 949CA5.
Add Penta.com Jeans.Amount 62,Border width 4.
Add EC gradient glow.click on colour.Black Halo,colour A5C0FF.
Highlight background,select all float.modify by5,invert new layer
fill with black,drag to top,add same EC as above.
Add url copyright and licence number.
Add your name on top center of triangle,rotate 90% left,drop shaddow as above.
I used text size 48 for mine.
Animation...
Highlight your blinds layer,Magic wand,click on all the pink blinds.
Add constalation settings from top to bottom...
2.00.19.20.0.100.15.Twinkle rotation.45.Keep original image ticked.Random seed1.
Select none,edit copy merged,paste in animation shop as new animation.
Back to psp undo select constalation,undo select none.
Add constelation hitting random seed once.
select none,edit copy merged,paste in animation shop after current frame.
Repeat adding contelation one more time.View animation,save as.
Aviator...
File new 150x150,fill with white.
Copy all layers accept frame layer,from your banner
resize each layer accept tube as you go.
Add copyright and licence number.
Add name resize text to 28.
Add border same as you did on your banner.
Add same costelation layers as on banner.
View animation,save as.
Hope you enjoyed doing my tut,thanks for trying it.